CORPORATE TIES WITH LOGO – INDIVIDUAL DESIGN
A tie with logo often forms part of a promotional campaign or a corporate outfit. Depending on the function that the tie is to fulfill, the logo, promoted product or corporate colors might be exposed to a smaller or bigger extent. In addition, the tie might be a perfect gift for corporate jubilees, press conferences or Christmas and the New Year. The tie is irreplaceable in the promotion of companies, institutions, schools or sports clubs.
The ties with logo may be produced in the process of weaving: the individual design (including a logo) is created on the looms whilst weaving the fabric. It is a result of interweaving warp and weft. You may choose the color of the fabric from the range of about 600 different kinds of silk or polyester yarn, so that it will match your color specification most closely.
Depending on the type of yarn, the tie can be jacquard or polyester-jacquard (microfiber). Given that silk fabric is not produced in Poland, for the needs of our production, we import fabrics from Italy, Germany and England.
An alternative to weaving is the method of screen printing or digital printing. We use it especially for multicolor prints and when the design on a tie has very small elements, which cannot be woven on a fabric for technological reasons.
We can print such a tie on silk or polyester fabric and it may have varied texture (weave): satin, twill, CDC or chiffon.
All silk or polyester fabrics for ties printed digitally are produced directly in our manufacture in Cracow.
Minimum order quantity is 20 pieces.
Delivery time:
Preparation of the design 1-2 days
Preparation of the prototype 7-14 days
Production of the order 21-30 days after confirming the prototype
When ordering a tie with logo, you have complete freedom as for choosing its design. Our creative graphic designers will design a product in line with your demands and trends in fashion. Call us at +48 12 411 42 42 or e-mail us at info1@krawaty.info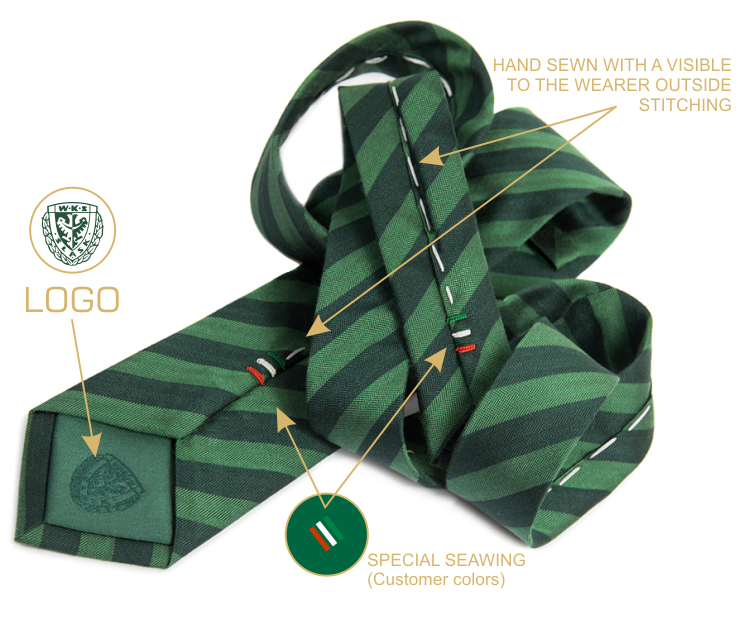 A SPECIAL TIE FOR A SPECIAL JOB
Hand sewn with a visible to the wearer outside stitching and additionally sewn with a triple stitching in the company colours. Hand sewn with a visible outside seam and additionally sewn with a triple stitch in your company colours. Logo embossed on the loom on the lining in the back part of the tie. Excellent quality, the most fashionable design.
Sample ties with woven logo:
Sample ties printed digitally:
Sample ties with woven label with logo:
Sample ties with woven lining with logo:
The photos illustrate examples of ties realized by PROMO-HOUSE. The photos are used exclusively for presenting quality and examples of technology of the offered ties. All rights to trademarks on the realized ties are reserved for the entitled entities, and especially for their owners.